Hunter signs Minors deal with Rays
Journeyman in camp with chance to win bullpen job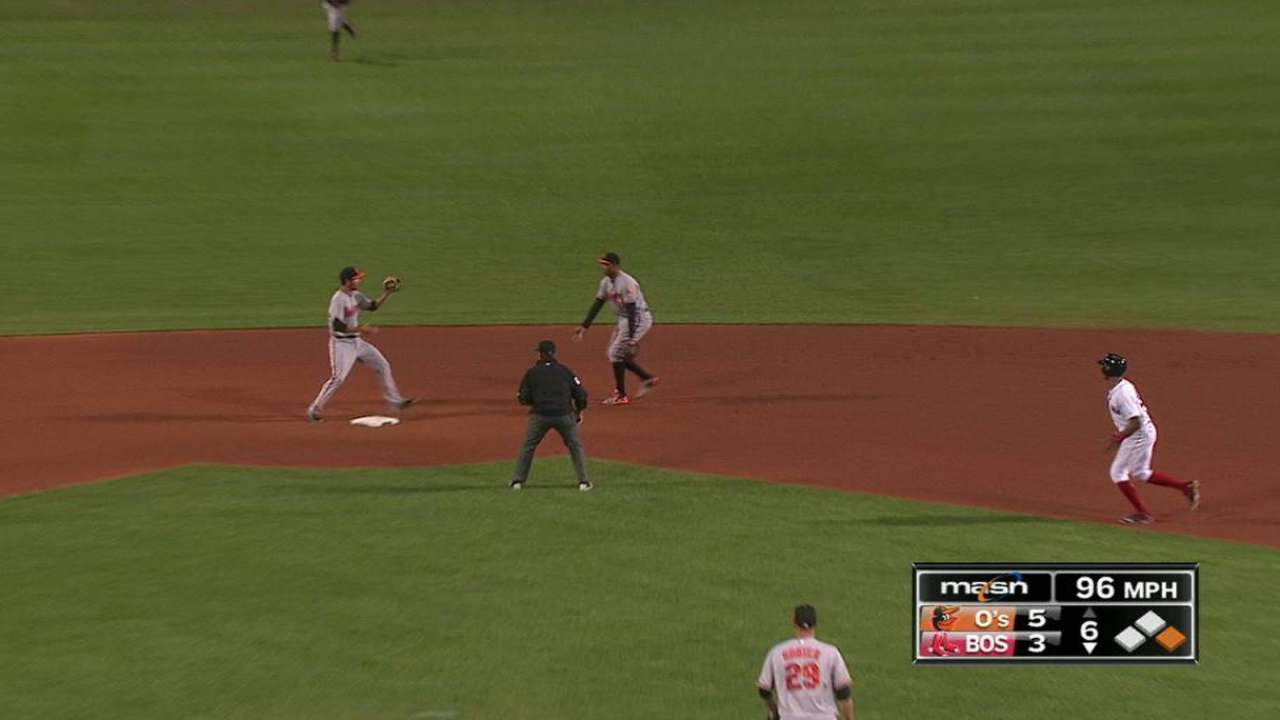 PORT CHARLOTTE, Fla. -- Tommy Hunter arrived at the Rays camp Friday after reaching a Minor League deal with a Spring Training invite.
"You know, it's an opportunity to play baseball," Hunter said. "And that's all you can ask for. As a baseball player, you're just looking forward to it and meeting some new faces, and playing with some new guys. Just seeing how it works out."
• Spring: Tickets | Ballpark | 40-man roster | NRIs
A nine-year journeyman who spent the bulk of his career in Baltimore, Hunter, 30, will compete with what's developing into a crowded corps of relievers that already houses plenty of righties. Xavier Cedeno is currently the only primary lefty in the Rays' bullpen.
When asked why he chose the Rays, Hunter said, "It's nice to be wanted."
"They definitely put their foot forward," Hunter said. "I'm just appreciative of the opportunity. That's kind of like what it was, it's nice to be wanted every once in a while. Everybody wants that. And these guys have shown it for a few years now. It finally lined up, and I'm happy to be here."
In past offseasons, Hunter's name has often been mentioned as a Rays target.
"This offseason it worked out," Hunter said. "Both sides. It was a good deal."
The Rays have built a 'pen that is back-end strong -- with closer Alex Colome and setup man Brad Boxberger -- after finishing last season with a 4.09 ERA, fifth-worst in the American League.
"There's some studs in here," Hunter said. "It's a good group of guys. I've played against them for a few years. It's different being on the other side. They've got some pretty [darn] good players in this clubhouse. I just look forward to fitting in wherever they see fit."
Hunter split last season with Baltimore and Cleveland, where he opened the year on the disabled list while recovering from a right core muscle surgery. He also was shelved mid-summer after falling in his home during the All-Star break. Before Hunter returned from the DL, he was released on Aug. 25 and then signed with the Orioles three days later, where he finished the season.
Between both stints in 2016, Hunter was 2-2 with a 3.18 ERA. Overall, he is 48-35 with a 4.26 ERA, and as a reliever, he's 19-12 with a 3.27 ERA and 16 saves.
"After a little mishap over the All-Star break, I came back and finished in Baltimore at the end of the year and felt pretty good," Hunter said. "Finally had a clean offseason, and that's a plus. Just having a healthy offseason after a couple of years of being in offseason pain."
Bill Chastain has covered the Rays for MLB.com since 2005. This story was not subject to the approval of Major League Baseball or its clubs.