Weeks offers young Rays veteran leadership
Reserve player in camp on Minors deal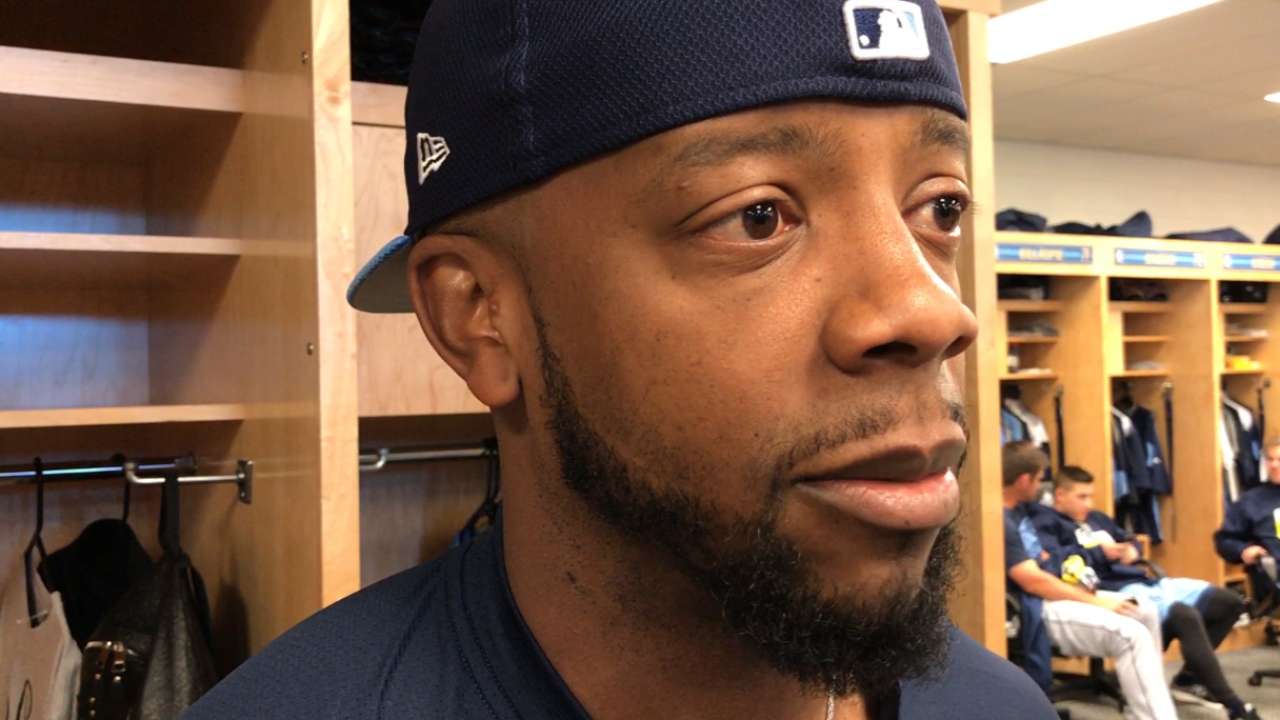 PORT CHARLOTTE, Fla. -- Rickie Weeks Jr. is old school. And that's not a bad ingredient to have inside the Rays' young clubhouse.
The Rays signed Weeks, 34, to a Minor League contract with an invite to Spring Training. Last season, he made the D-backs' Opening Day roster as a pinch-hitter and reserve outfielder. He hit .239 and drove in 27 runs while playing in 108 games.
• Spring: Tickets | Ballpark | 40-man roster | NRIs
Holding old-schooler status, Weeks was asked about his view on leadership.
"The biggest thing [as a leader] is do what you have to do to work hard," Weeks said. "When I came up, you sat in your locker and watched the veterans. From that standpoint, if you're watching somebody going about their business, working hard, doing everything the right way, that's what they want to do.
"So for me, it's coming in here and doing the right thing first. Obviously, when they have questions or if they need help, or if you have to speak up and say something if somebody is not doing something right, you have to say what you have to say. For me, it's just doing everything the right way."
A former first-round Draft pick, Weeks came up through the Brewers organization, and he credited veterans Mike Cameron and Geoff Jenkins for showing said veteran leadership to him. He also mentioned the examples of young guys he played alongside, such as Prince Fielder and J.J. Hardy for helping to show him the way.
"When you're raised the right way, you play the game the right way, too," Weeks said.
Weeks was asked if he liked being cast as a leader, and he replied, "Yeah, it's playing baseball."
He noted that he felt like people put too much into leadership.
"If you play the game the right way, guys are going to watch," Weeks said. "When guys watch, you do the right things, that's how you lead. And then it's real easy to speak up and say something, and then the guys listen.
"I'm not going to listen to a guy who says one thing and then does something else. So for me, it's trying to set an example the right way."
Weeks will have an opportunity to win a utility spot with the Rays, which might include work at second base, the position he played when he arrived with the Brewers in 2003.
Bill Chastain has covered the Rays for MLB.com since 2005. This story was not subject to the approval of Major League Baseball or its clubs.