Morrison hoping for better April with Rays
Slugger aims to build on second-half momentum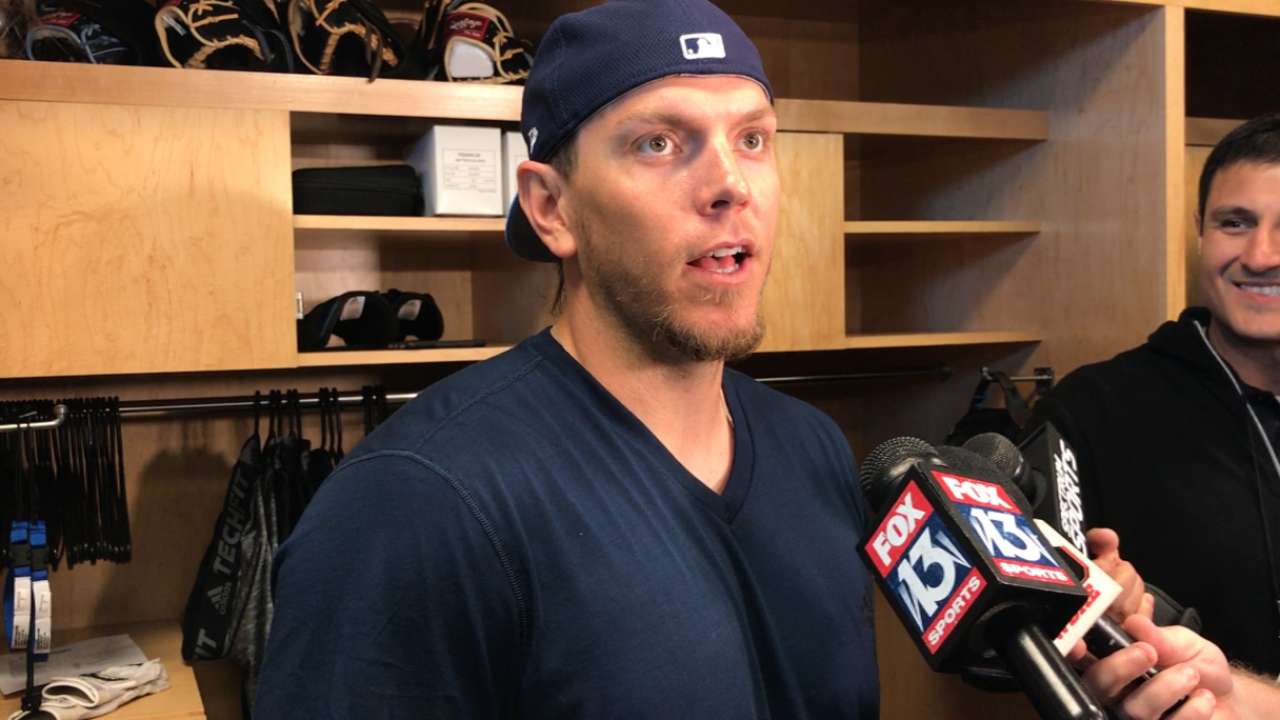 PORT CHARLOTTE, Fla. -- Saying Logan Morrison didn't get off to an auspicious beginning with the Rays last season would be a huge understatement.
In his first season with the Rays, Morrison hit .100 in April, with no home runs and no RBIs. Not exactly the numbers that the Rays, or the team's fans, were expecting to see from the veteran slugger.
• Spring: Tickets | Ballpark | 40-man roster | NRIs
"Take out April and I was pretty good," said Morrison, who arrived to camp on Thursday. "But I was pretty bad in April. Long season, but hopefully I can be as consistent as I was in the second half, even May on, and stay healthy."
Morrison, 29, appeared in 107 games for the Rays last season, including a team-high 78 starts at first base. His season was cut short by two injuries: a right forearm stain that put him on the disabled list for 16 games and a left wrist strain that sidelined him for the final 20 games of the season and prompted offseason surgery.
Morrison finished last season with a .231 average with 14 home runs and 43 RBIs.
Morrison entered the offseason as a free agent before signing a one-year deal worth $2.5 million on Feb. 7 to return for a second season with the Rays.
"The Rays said they were interested in a deal from the beginning," Morrison said.
Morrison's return added to the flexibility of the roster in the aftermath of the Logan Forsythe trade that left a void at second base. Some speculation has suggested that first baseman Brad Miller could move to second, and Morrison's arrival would seem to give that speculation some legs.
Morrison said he didn't plan on spending a lot of time worrying about his situation and where he might fit.
"Control what you can control," Morrison said. "Don't worry about what other people are doing. I think that should be everyone's concern. Worry about how you're feeling, take care of your body, get your swing where it needs to be. Biggest thing is to stay healthy through Spring Training and the season."
On Thursday, Morrison told reporters that his wrist "feels good."
"We'll see how they'll want to progress me, whatever," Morrison said. "But I feel ready to go. ... It's up to [the Rays if I'll need extra time to get ready] and the training staff. But guys play with this surgery three months out, and I'm 4 1/2 to 5, so I should be fine."
Morrison's response earned a follow-up question from a reporter, who asked if Morrison was angling to begin his season in May based on how badly April went for him last season.
Morrison managed a smile.
"No, no. I'm going to try and improve my overall career numbers in April, and keep the May ones where they're at," said Morrison, who has a .226 career average in April. "...So my dog's name is Stella Mae. Maybe I need to get another one and throw an April in there."
Bill Chastain is a reporter for MLB.com. This story was not subject to the approval of Major League Baseball or its clubs.