Rays energized at start of Spring Training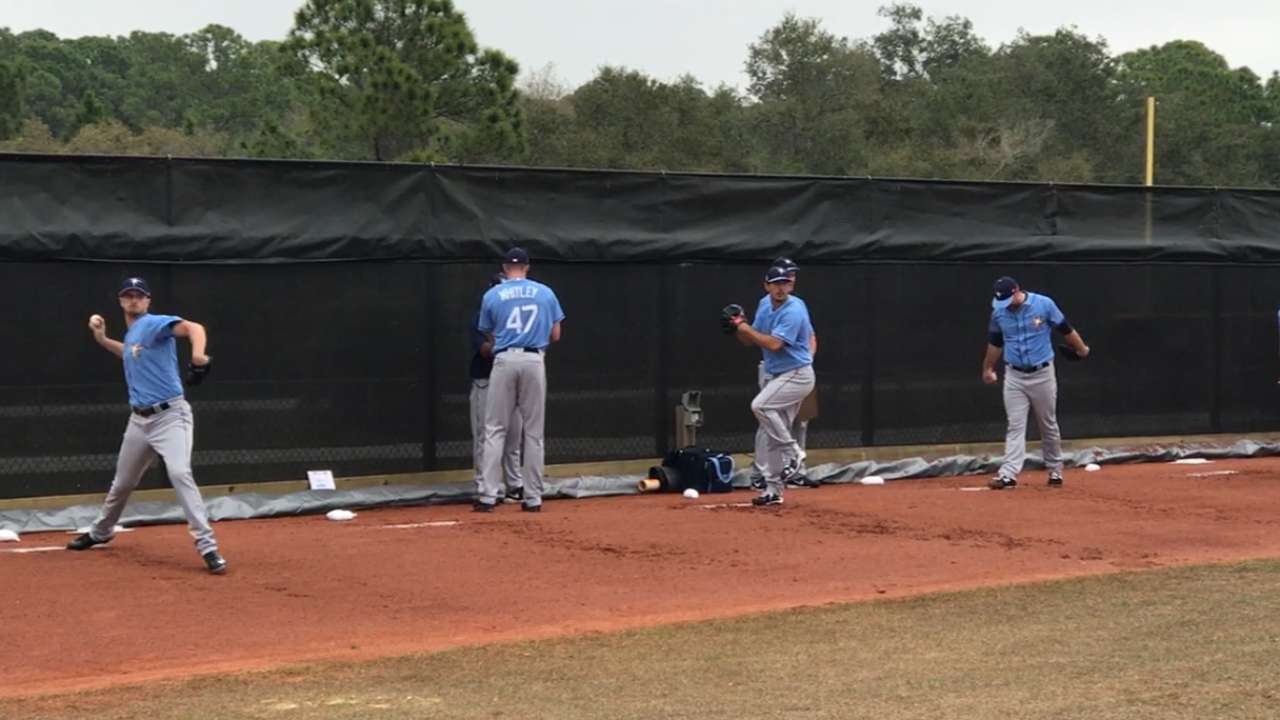 PORT CHARLOTTE, Fla. -- Smiles and overcast skies greeted the first workout of the spring for Rays pitchers and catchers on Tuesday morning.
"It was great, it was fun," said right-hander Jose De Leon, who was acquired from the Dodgers in the Logan Forsythe trade. "A lot more humid than Arizona, so I sweat a lot. But it was cool. It was good."
Added Rays manager Kevin Cash, "Got the first one in the books. Now we'll start that Groundhog Day process while they're throwing their bullpens."
•Spring: Info | Tickets | Schedule | Gear
Catcher Wilson Ramos was the team's lone no-show, which Cash downplayed.
"The best information, it's family related," Cash said. "No emergency to my knowledge. It's really not that big of a concern simply because he's going to get his physical and probably will spend a lot of time in the training room rehabbing."
Chris Archer, who lost 19 games in 2016, delivered the line of the day when he told reporters: "You either win, or you learn. I learned 19 times last year."
Since the end of the 2016 season, the Rays added 14 new players to the 40-man roster, including Ramos, outfielder Colby Rasmus, and right-hander Shawn Tolleson. So a lot of new faces will be in camp this spring. Archer addressed the offseason moves by saying, "I think time's going to tell."
"Right now, we don't know," Archer said. "We've got some guys, we don't know if they're going to start Opening Day due to injuries. Time will tell. We came into the offseason with a nice nucleus. We subtracted somewhat from that nucleus... but all I can do is focus on pitching and being the best possible teammate I can. And that's what I plan on doing."
Breaking down today's work. pic.twitter.com/Ma8IyubEkv

- Tampa Bay Rays (@RaysBaseball) February 14, 2017
As for what it's going to take for this year's team to be successful, Archer noted that the Rays needed to be more well-rounded.
"To win a championship, you have to have everything clicking," Archer said. "And I think it's time as an organization for us just to say, 'You know what? We're a good team. We're not just a good starting five, we don't just have a good closer, but we've got a good bullpen. We play good defense. We can score runs, and we pitch."
In deference to Archer, Cash pointed out that the Rays were still about starting pitching and defense.
"Without putting too much pressure on anybody, that's how we're built," Cash said. "I do agree, last year our defense slipped a little bit. That's another thing that's made this organization so successful. Some of those things we couldn't control. [Center fielder Kevin Kiermaier] getting hurt, that's going to happen the way he plays. [Steven] Souza played really good defensively, we missed out on him a couple of weeks at a time.
"Ultimately, we know we revolve around starting pitching. And we're confident that they don't have to do anything more than just be the guys we know they're capable of being."
Tuesday brought a day for the Rays to feel good. The team will play its first Grapefruit League game on Feb. 24 in Fort Myers against the Twins, and will have its home opener the following day against the Pirates at Charlotte Sports Park.
Bill Chastain has covered the Rays for MLB.com since 2005. This story was not subject to the approval of Major League Baseball or its clubs.