Rays ink backstop Ramos to 2-year deal
Coming off ACL tear, veteran confident he can contribute in DH role as early as May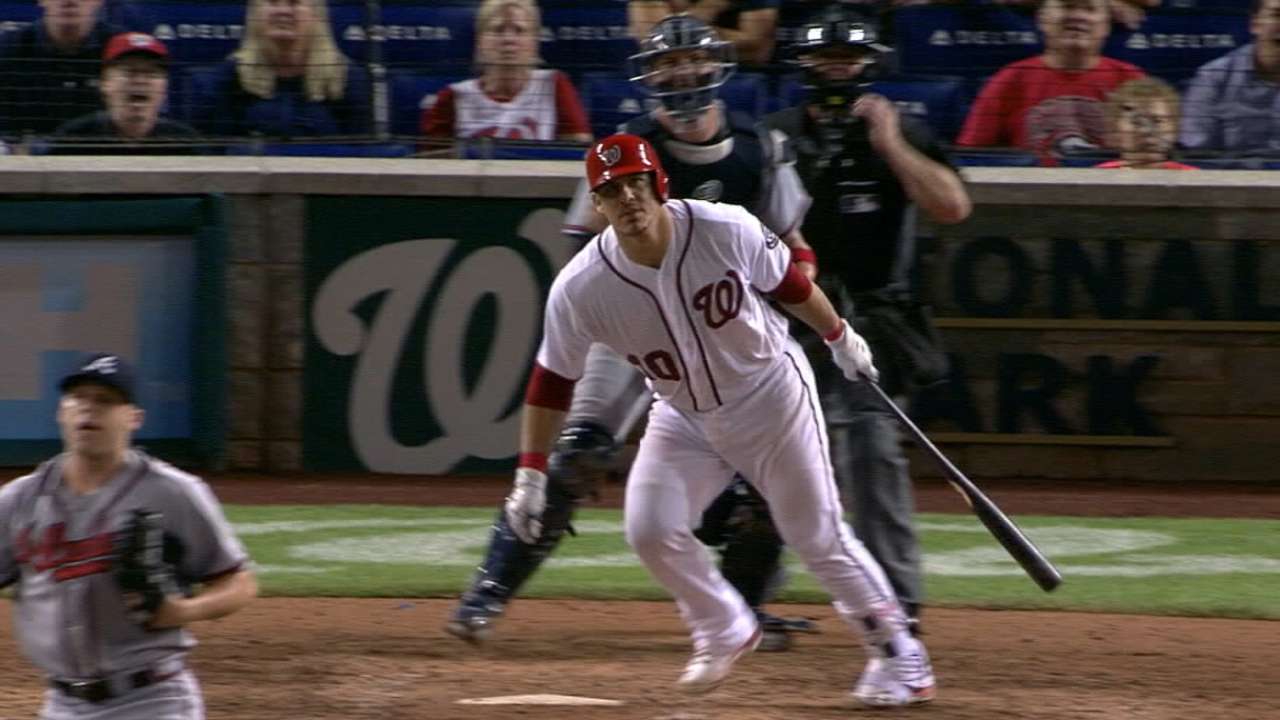 The union of Wilson Ramos and the Tampa Bay Rays -- which became official on Monday -- is one that presented a perfect fit for both the player and his new team.
By going to the Rays on a two-year, $12.5 million contract, Ramos has a chance to get at-bats in the Major Leagues at least a month earlier than if he went to a National League team. And in Ramos, Tampa Bay gets the type of impact free agent it usually isn't in play for.
"We're really excited to bring Wilson aboard," Rays vice president of baseball operations Chaim Bloom said in a conference call on Monday. "When he's healthy, he's one of the better catchers in the game. He contributes on both sides of the ball. He contributes behind the plate, he helps the pitching staff and he's a really good hitter."
For Ramos, the 2016 season ended abruptly when he tore his right ACL on Sept. 26. Initial reports indicated that he realistically wouldn't return until close to midseason in '17. However, the veteran catcher has other ideas, and he thinks he can serve as the designated hitter a month into the season.
"It had been something on my mind to try to find an American League club, and that was the opportunity I found with the Rays," Ramos said through an interpreter. "The pace of my rehab, at the very least, I expect to be available for the team really from the beginning of May."
The Rays won't hold Ramos back if he proves ready for that timetable.
"We hope that's how it turns out. We never want to limit a player," said Bloom. "We're very hopeful that his forecast is the way it turns out, and I know our medical staff is going to work as hard as it can to get him back on the field as soon as we responsibly can."
Tampa Bay is realistic in knowing that the injury -- which robbed Ramos of the chance to suit up in the postseason for the Nationals -- is a big reason it was able to land the 29-year-old in free agency.
"This type of talent is not usually talent that we have access to through the free-agent market," said Bloom. "We know there's a long road back, still, for Wilson. We just look at it as a good match for what both of us were looking for."
Ramos was enthused at watching what Kyle Schwarber did for the Cubs as a DH in the World Series after suffering an ACL tear in April.
"I watched the playoffs quite a bit, I followed it very closely," Ramos said. "My doctor explained to me at the time of my procedure … he explained to me how long it took for Schwarber to come back to the field first as a DH and not out in the field. He explained the nature of that, compared to mine. The Rays' management has given me a lot of confidence that I can take the time that I need to rehab so my legs are where they need to be for me to be behind the plate the way I'm used to."
Even if he is relegated to DH duty early in the season, Ramos plans on being fully prepared to catch once that time comes, which could be by June.
"One of my priorities is to get to know the pitching staff," said Ramos. "I'll reach out to them and learn how they like to pitch and work when they're on the mound, what they like to throw in certain situations. That way, I'll be ready for them when I get behind the plate."
Ramos hit .307/.354/.496 with 22 home runs and 80 RBIs in 131 games for the Nationals in 2016, and he was named to the NL All-Star team.
Tampa Bay designated catcher Justin O'Connor to make room for Ramos on the 40-man roster. O'Connor played in only 20 Minor League games last season after suffering a back sprain. The 24-year-old is a .233/.282/.392 hitter with 55 homers and 251 RBIs in seven Minor League seasons.
The Rays reached agreement with Ramos on a contract at last week's Winter Meetings, and it became official once he passed his physical.
"We always talk about being opportunistic, and I think this is an example of an opportunity that was there for us because of the circumstances surrounding Wilson," said Bloom.
Ian Browne has been a reporter for MLB.com since 2001. Follow him on Twitter @IanMBrowne and Facebook. This story was not subject to the approval of Major League Baseball or its clubs.