Cash likes the Rays' fight
Seven-run seventh inning 'impressive to watch'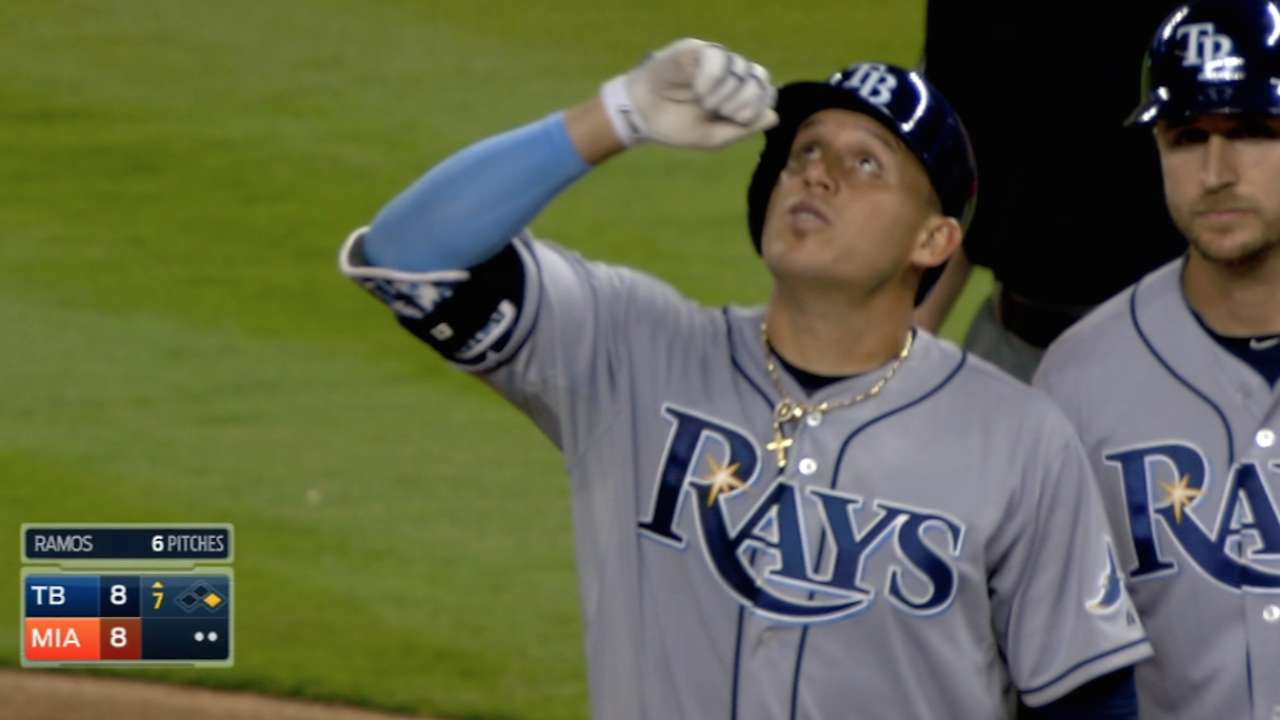 MIAMI -- On Zombie Night at Marlins Park, the Rays came back from the dead -- twice.
Unfortunately for the Rays, a seven-run seventh inning wasn't enough to get the job done, nor was the ninth-inning run that tied the game again. But Rays manager Kevin Cash couldn't say enough good things about his club following their 10-9 loss in 10 innings.
"Incredible effort, I couldn't be more impressed with our guys to battle back, the at-bats they strung together that inning, they kept plugging away," Cash said. "It was impressive to watch."
The Rays went into the seventh trailing 8-1. To their credit, they did not go gently into that good night.
Marlins starter Dan Haren had their number, scattering four hits -- including Kevin Kiermaier's second home run of the season -- over six innings. But he did not come out for the seventh, and that's when the Rays got busy.
Asdrubal Cabrera singled off Haren's replacement, David Phelps, to open the seventh. One out later, Desmond Jennings singled. Then the floodgates opened thanks to Marlins pitchers. Phelps walked the next two, allowing a run to score. Sam Dyson replaced Phelps and proceeded to walk in two more. A.J. Ramos then took over for Dyson and David DeJesus greeted him with a three-run double before scoring on on Cabrera's second hit of the inning to cap the rally that tied the game.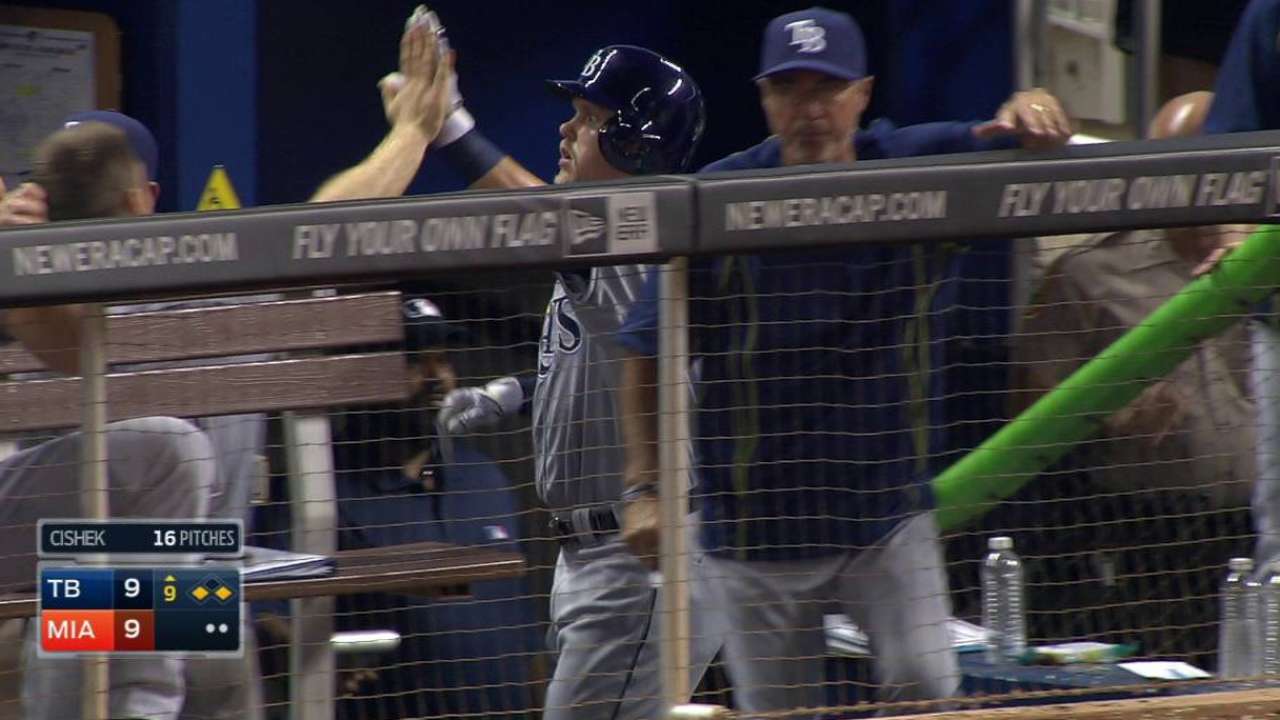 "Tip your cap to our guys," Cash said. "... That one inning, it was incredible the patience we showed with the at-bats and just kind of passing it over to the next guy."
The Rays trailed again in the ninth when Brandon Guyer doubled to lead off the inning and eventually scored when Cabrera legged out a fielder's choice.
While the third rally never materialized, Cash believes the stuff that went into Friday night's rallies will play well over the long haul.
"I mean, I don't know if I've been a part of something like this," Cash said. "It was just amazing. ... I would think these guys should be feeling pretty good about themselves carrying over to the next ballgame."
Cabrera, who became the first Rays hitter to record three hits in a game this season, spoke about what transpired.
"They scored early," Cabrera said. "It was a long way to finish the game. We all have to keep doing what we're doing, have good AB's, and see what happens."
The Rays have scored 18 runs in four games, which translates to 4.5 runs per game. If they can maintain that clip, many of the team's problems should smooth out once some of the missing starters return to the rotation.
Bill Chastain is a reporter for MLB.com. This story was not subject to the approval of Major League Baseball or its clubs.