After busy offseason, Beliveau excited for season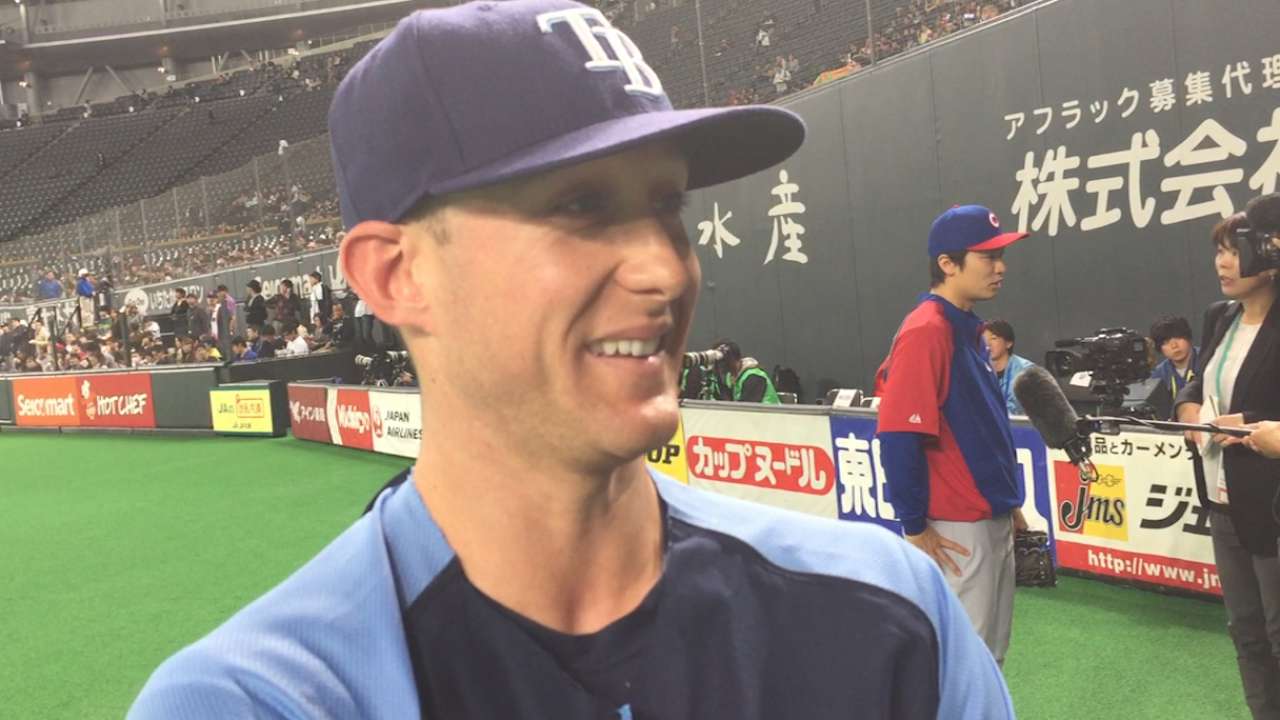 PORT CHARLOTTE, Fla. -- Jeff Beliveau was hanging out at home in Rhode Island a few weeks after the Rays' season ended when his phone rang. It was the Major League Baseball Players Association, and they wanted to know if Beliveau had any interest in a two-week tour of Japan while pitching in the MLB Japan All-Star Series.
"Immediately, I was like, yeah, 1,000 percent," he said Wednesday morning. "I was really excited."
Thus began a busy offseason for Beliveau, the lefty reliever gearing up for what could be an equally busy regular season in Tampa Bay.
After getting that phone call, Beliveau started getting his arm loose for the trip. He's not sure why Red Sox manager John Farrell picked him to be on the roster, which also included Rays third baseman Evan Longoria, but he wasn't about to start asking questions.
Beliveau wound up straining a lat muscle during the trip, but that didn't dilute the experience of visiting temples in Nara, riding the bullet train, seeing Mount Fuji in the distance and enjoying plenty of Japanese cuisine with his father, Jeff, who came along as a guest.
"It was awesome," Beliveau said. "I was with him for 14 straight days. It was something else, just being on the other side of the world."
In January, Beliveau received an honor much closer to home. He had his No. 11 jersey retired at Bishop Hendricken High School in Warwick, R.I. The school has only done so for one other baseball player: Rays first-base coach Rocco Baldelli, the only other Major League player from the school.
"Rocco Baldelli's like the legend over there," Beliveau said. "I got my number up next to his, which is awesome."
Now, they're sharing a clubhouse.
Beliveau spent the first four years of his career bouncing around the Cubs' system. He made his Major League debut with the Cubs in 2012, got claimed off waivers by the Rangers that winter and came to the Rays in April 2013.
That kicked off Beliveau's seemingly non-stop journey between Triple-A Durham and the Rays. The 28-year-old got called up four times in 2013, but he appeared in only one game. He was called up eight times by the Rays -- but only for 22 days and three appearances -- before finally getting promoted for good last July.
"I was just inching my way closer," Beliveau said. "The end [of last season] was great."
That's when Beliveau proved he'd earned the right to stay. Beliveau put together a 2.63 ERA with 28 strikeouts and only seven walks in 24 innings. With closer Jake McGee expected to begin the season on the disabled list, there's a good chance Beliveau will be the only lefty reliever on the Rays' Opening Day pitching staff.
"He came in last year and did a really nice job," Rays manager Kevin Cash said. "He'll make a huge impact on our team."
Beliveau will have some stories to tell about his offseason, too.
Adam Berry is a reporter for MLB.com. Follow him on Twitter at @adamdberry. This story was not subject to the approval of Major League Baseball or its clubs.